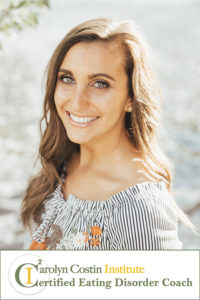 Recovery Coaches provide a crucial aspect of treatment by accompanying clients in everyday situations and providing exposure and response prevention. Lauren Harding uses her extensive and rigorous training from the Carolyn Costin program as well as her own personal experience recovering from an eating disorder to help individuals in their unique journey towards recovery. Working together, Lauren will help you:
Work towards your recovery goals,
Eat meals and "fear" foods
Challenge thoughts and behaviors
Heal negative body image
Challenge diet culture and other triggering media influences
Learn to cope with difficult thoughts and feelings
Discover your "WHY's" for recovery
Ultimately find freedom and joy in your life once more
Lauren developed an eating disorder at a young age and struggled off and on in her own recovery for almost 10 years. She is now fully recovered and is passionate about empowering others to do the same. She coaches with the mindset that full recovery is possible, which is demonstrated in her own personal experience. In addition to eating disorder recovery coaching, Lauren provides guidance for parents and other professionals. This includes education about eating disorders along with the tools and skills necessary to help clients along the way.
What else does coaching offer?
Recovery coaching sessions in-person or video conferencing
Meal sessions
Restaurant outings
Clothing shopping
Grocery shopping
Preparing meals together
Social event preparation
Texting/calling for support
Coaches bring exposure and response prevention to sessions that typically other professional members of the treatment team cannot provide. Outings and experiences such as eating out or shopping can be triggering for someone who struggles with an eating disorder. This can cause feelings of distress and discomfort and which often can lead to disordered behaviors. Coaches provide ongoing support in these moments when the eating disorder voice is its loudest. Lauren is specifically trained to provide assistance in these everyday experiences serving as both a role model and a guide. She will go out to a restaurant with you, establishing goals before and providing support after. She may also go shopping with you for a pair of jeans and provide you with the tools necessary to help navigate that experience. Lauren will help you to identify your own goals while also working in alignment with your treatment team.
Who can benefit from coaching?
Individuals who currently have a therapist or a treatment team
Individuals transitioning out of eating disorder treatment
Individuals who feel like they need some extra support/challenges in their recovery
Individuals who are within the contemplative stage of eating disordered behaviors or contemplating recovery.
Individuals who are seeking food freedom and body acceptance
Parents/families who want more support/resources
A coach can provide support at home, work, or school. Lauren will meet you for a lunch break or she can spend time with you during difficult transitions. These could include instances such as transitioning home after eating disorder treatment, or during times of the day that you feel the most triggered or stressed. She can talk to you on the phone if you are working through a specific thought, situation, or urge. Through scheduled access to calling or texting for support, coaches can make a significant difference in your recovery.
Eating disorder recovery coaching is not considered a substitute for clinical treatment or therapy although it can assist individuals who are within the contemplative stage of their eating disorder. It can be a great first step in forming a treatment team; it can be an addition to the treatment team, or a final step in an individual's journey towards recovery. We can discuss whether coaching is the right step for you in your journey and tailor the sessions/packages to your needs. Many of the coaching principles implemented by Lauren are parallel to the eight principles taught in the "8 Keys to Recovery from an Eating Disorder" book and workbook written by Carolyn Costin.
Lauren aligns with Carolyn Costin's conceptualization of recovery. Here is what being recovered means to her:
"The person can accept his or her natural body size and shape and no longer has a self-destructive or unnatural relationship with food or exercise. When you are recovered, you do not use eating disorder behaviors to deal with, distract from, or cope with other problems. When recovered, you will not compromise your health or betray your soul to look a certain way, wear a certain size or reach a certain number on the scale." – Carolyn Costin