In yoga there is this concept of full range of motion. It is why we push ourselves to be able to reach certain poses and lean in a little bit further. Many people never get to their full range of bodily motion because it takes years of dedicated practice, and the willingness to be constantly be leaning into your physical pain. Not to mention attending trainings and buying the equipment needed can be costly—ouch! However, with dedication, consistency, willingness to learn, and maybe spend a little, people can get close—if not completely—reach their full range of motion. Little by little, if you stick with your daily practice, you will begin to notice more ease in your daily movements. This is a place I have gotten to with yoga before; however, many barriers came up along the way, and eventually I lost the dedication and inspiration. Needless to say, I am back to having back pain and general discomfort as I move about.
---
Original article from Indy's Child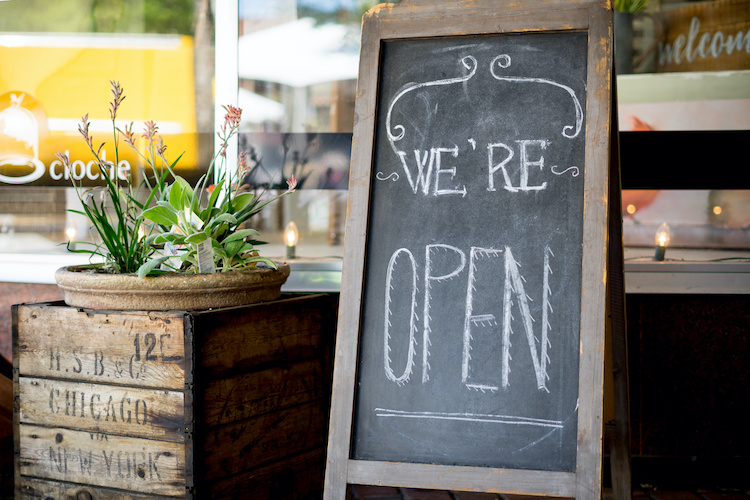 But we've also seen many of our favorite local Indy businesses step up and face the challenges of the pandemic head on. We reached out to hear from them directly, to see how they've adjusted and what they're looking forward to.
How is your business staying connected to and/or serving the community during this time? "We had to close our doors on March 16 and decided to do some curbside selling in order to continue serving our community with affordable clothing. We also partnered with a local organization, the Grassroot Projects, to provide clothes and shoes for 14 kids in the Indianapolis area. We look forward to reopening our doors and providing a safe and affordable shopping experience for our customers."
How is your business staying connected to and/or serving the community during this time? "At Kits & Kaboodle, we've been staying positive during these uncertain times with two modes of thought every day: Appreciating each and every customer that supported us while our business was closed and looking to our future re-branding of Kits & Kaboodle."
What are you looking forward to in the future? "We are very excited about moving to City Center this summer. We have designed the new store to have a British feel with a nod to European-designed toy companies. There will be a play area called 'Poppins Play Area' and a book space called 'Bert's Book Nook.' The store will have our customers' favorite toy selections and will feature story time with owners of local businesses. Tea time will be served on occasion and most events will be centered around English culture. The aisles will be easy to shop for parents with strollers. We have a newly designed logo, website, and our point of sale is new too. Don't worry…all of our reward customers' points have transferred. We've had extra time to work on all of these new functions during this strange time!"

How is your business staying connected to and/or serving the community during this time? "We have been serving children and their parents for 25 years. We have been through a lot over the years and through good times and bad, we have always found special ways to keep in touch with our families. During this trial, we have been posting simple 10-minute segments for the children. Some songs, a story and activities. Yesterday we had a drive through "Smile and Wave." Gymbo the clown was on the curb as clients drove up and they got some warm socially distanced greetings, songs and even a goodie bag. We even had a "Gymbo Drive By" contest. Many lucky friends experienced Gymbo showing up on the street by their home in his 1966 convertible T-bird. Songs, smiles, laughs and a goodie bag (sorry: no-hugs)."
What does community mean to you? "When you think about it, we have been lucky to have touched the lives of tens of thousands of families over the years. We have reached out to members and non-members alike with special events and activities. Whether it is our National Day of Play, our Fireman & Ice cream night or our Diaper Drives. Our community is always there."
What are you looking forward to in the future? "I think a client said it best yesterday. 'One thing this has taught us is to understand what is important in life and to let go of what is not.'"
How is your business staying connected to and/or serving the community during this time? "Meridian Music School Teachers are continuing to teach students by offering online music lessons. Teachers who have been unable to offer online lessons have been communicating regularly with students to give assignments and offer encouragement. Some teachers have even created virtual performance opportunities."
What does community mean to you? "To me community means using your personal gifts and strengths to help others. I have seen the power of community more than ever in the past two months. In our own studio I've seen teachers go out of their way to help others who are not as comfortable with technology so that students can continue to receive quality music instruction."
What are you looking forward to in the future? "I'm looking forward to participating in and enjoying live musical performances. I'm also looking forward to hearing daily music coming from each studio as I work!"
How is your business staying connected to and/or serving the community during this time? "Outside of hosting artistic resources on our website and showcasing creativity across social media platforms, we are excited to be transitioning into offering interactive online camps and classes. This will allow us to deliver high-quality art education right to your homes while continuing to connect with our community, and beyond."
What does community mean to you? "At the Art Center, community means a limitless source of inspiration. Whether it's found in our students, a group of teaching artists and exhibitors, or our everyday patrons and staff; we consider community to be the catalyst that continually drives us to inspire creative expression in people of all ages.
What are you looking forward to in the future? "Like many others, we look forward to returning to a new normal, whatever that may be. We look forward to our doors being open, our students creating in our studios, our galleries inspiring visitors, and our outreach programs spreading the support and power of art throughout our ever-growing community."
How is your business staying connected to and/or serving the community during this time? "During the stay-at-home order, our practice stays connected to our clients via virtual therapy sessions. Our therapists remain committed to our current clients and have accepted new clients who are seeking support related to the uncertainty of the times."
What are you looking forward to in the future? "At Northside Mental Health, we look forward to helping our clients navigate their lives as we all discover what the "new normal" looks like. Our commitment to our clients has grown even deeper roots through this crisis and we welcome the opportunity to provide ongoing support."
What does community mean to you? "At DeVeau's, community means family. Our families safety and wellbeing are always are first priority, and that philosophy is unwavering. We have transported our facility into an online community through Private Facebook Groups, live Zoom classes, and DeVeau's Academy—a new online platform providing gymnastics classes, strength, and skill training for students to enjoy from the safety of their home. We are more connected to our DeVeau's families than ever before and are committed to maintaining structure and normalcy for our students, which is something children need more than ever before. We cannot wait to see all of our DeVeau's families back in the gym!"
How is your business staying connected to and/or serving the community during this time? "DeVeau's School of Gymnastics quickly adjusted our curriculum in order to provide structure and normalcy for our community. Community is about connection and support, and we value both. We have connected through live Zoom classes, private Facebook groups, and the newly launched DeVeau's Academy which offers virtual learning year round!"
How is your business staying connected to and/or serving the community during this time? "Puccini's Pizza & Pasta has been part of the Indy community for three decades. We've always considered it important to serve the community in a holistic sense. So, we give away a lot of pizzas and gift certificates, and we do our best to make customers understand how important they are to us. And we treat our employees with respect, because we need people to feel good when they're working. Obviously, this crisis has put pressure on us. We had different options in terms of how to handle it. And we decided to keep our locations open, because people need to eat and our employees wanted to keep working. So, we enhanced our safety procedures for carryout, added curbside pickup and expanded our delivery options. We kept feeding people, and that's what makes us feel good!"
How is your business staying connected to and/or serving the community during this time? "As a gymnastics and ninja facility, we had to pivot quickly and get all of our programming online. Our coaches and parents were amazingly flexible during this transition to virtual classes. We were also able to collaborate with some community members to create on-demand video content on AmazingKids360.com."
What does community mean to you? "We are blown away by how incredibly supportive and resilient, our Wright's Gymnastics and NinjaZone families have been. Our students and their parents have proven they can do hard things and have fun at the same time. We are immensely grateful for our wonderful local community. You rock, Indy!"
What are you looking forward to in the future? "Most of all, we can't wait to see our students' smiling faces in the gym as soon as it's safely possible. We miss them all but are so proud of how much they've grown – both athletically and personally – during this time!"
How is your business staying connected to and/or serving the community during this time? "We have been more active on social media. Some ways that we have reached out are activities do do at home during quarantine, we have had some special guests hosting activities like Olympic Gold Medal Swimmer Ryan Murphy."
What does community mean to you? "Community to me is everyone we interact with on a personal basis. What makes a community to me are all the essential workers out there that not only make our way of lives possible but do it with a smile on their faces."
What are you looking forward to in the future? "We are SUPER excited to get kids back in the pool learning to swim and making them safe in water… On a personal level my family is excited for the pools to open up for the summer as well."
How is your business staying connected to and/or serving the community during this time? "Since becoming an agent in 2007, I have proudly donated a portion of my paycheck from each closing to my clients' local charity of choice. With the COVID-19 crisis impacting our community at every level, I've decided to direct all giving at this time to organizations that are providing direct and immediate support to keep our most vulnerable community members safe, fed, and housed. I provide my clients with a list of organizations to choose from. A great deal of consideration went into making the list and I look forward to continuing to support the Indianapolis community."
How is your business staying connected to and/or serving the community during this time? "To stay connected to the community we are doing remote one-on-one tutoring via Zoom for students at all grade levels. We try to stay connected to our friends at schools around Indianapolis with social media, emails and phone communication. We are serving the community by volunteering our time where we can. Recently, we helped Indianapolis Public Schools pack and ship Chromebooks to students for their use in remote tutoring. Also, we volunteer to help hand out meals to families in need. Those meals are provided by Gleaners Food Bank and distributed by Indianapolis Public Schools. Area schools serve as distribution points multiple days a week and school buses are used to ship the meals to those distribution points."
What does community mean to you? "Community to us means participating and sponsoring events at schools and within the community. We also look for opportunities to provide parents with information and help on how to best work with and guide their children through their academic journey. To accomplish that, we post frequent tips on social media and we offer free webinars and presentations online that can help parents to navigate both the normal education world and the altered version of it that we are living in during the COVID crisis."
What are you looking forward to in the future? "Our concern is that children have missed a lot of education during the school closures and we hope to be able to help them during the summer with our Reading Adventure program. This free program is open to all children and encourages them to read through the summer. In the future, we also hope to take the best lessons we learned from remote tutoring and combine it with our in-person tutoring to help students avoid starting the school year academically behind once the school year starts in the fall. We are concerned about how much ground students have lost during the COVID crisis. Many educators are calling it the 'COVID slide.' A few hours a week spent reading or studying during the summer can help to blunt that loss!"
How is your organization staying connected to and/or serving the community during this time? "The mission of the Indianapolis Colts is to entertain, inspire and unite, and we are drawn to it even more during challenging times like these. The Irsay family and the Colts have backed COVID relief efforts in Indiana through donations, public awareness and moral support, including sizable donations to Gleaners Food Bank, 12 Indianapolis front-line community centers, Indianapolis Public Schools and others. We also have used Colts digital and social media channels to raise awareness about community relief efforts, while also continuing to bring entertaining and informative content to children, families and fans during this time of social distancing."
What are you looking forward to in the future? "We all look forward to the day when we beat this virus, and people and communities across Indiana can get back to normal life and activities. We also can't wait to welcome fans back into Lucas Oil Stadium for many safe, fun and entertaining afternoons of Colts football!"
---
Do you have an unhealthy relationship with food? What's the difference between an eating disorder and disordered eating? How can you change the food and workout conversation?
In this podcast episode, Melissa Vogel talks to Kate Fisch about loving food and yourself. (This podcast
---
In This Podcast
Summary
The stigma
Disordered Eating
Sometimes foods and all the time foods
Eating Disorder vs Disordered Eating
Women always talk about it
Practicing gladness
Things to be careful of when dealing with food
Evolution of women
Something we can implement with our kids right away
The stigma
Like all mental health, eating disorders still have a stigma to them. It's taboo but it's so common. Kate likes to say "disordered eating" … 30 million people, of all ages and genders, in the United States, meet the criteria for the diagnosis of an eating disorder but there are so many more men and women who really struggle with disordered eating. Disordered eating behaviors, disordered eating behaviors, and disordered thoughts about their bodies.
Disordered eating
What does this look like in someone? Sometimes when we think about exercising, we relate that to food. Sometimes we end up exercising to eat so we add up the calories we can have, or, the compensatory behavior of hitting the gym extra hard because of eating or drinking too much the night before. That's a disordered eating kind of thought. E.g. Going to a birthday and feeling bad for wanting to eat the cake. It's a birthday, you should eat cake. Don't feel bad about this, it is a normal thing.
Sometimes foods and all the time foods
Cake is a sometimes food. We don't eat cake at every meal, every day. An apple could be an all the time food. We either go all or nothing with food, it's either good or it's bad, and that's not the truth. Food is so much more. Yes, food is fuel, but it's also a way that we communicate with each other, its a way we remember our heritage and loved ones, a way to soothe people when they're grieving. In some religions, food (or fasting) is even a way that we talk to God. Food is complicated and saying that it is good or bad really limits what this vital piece of our life is. If you ate cake every day, it wouldn't be your favorite food anymore, keep it for special occasions.
Eating Disorder vs Disordered Eating
An eating disorder is a multi-dimensional, biopsychosocial, diagnosable mental health issue. It can be passed on through DNA but you don't have to have those genes to have an eating disorder. The commonage of onset is puberty, and then again between 18 and 24. Biologically, that's when those biological factors get triggered. Then there are the psychological issues e.g. you get bullied for the way you look, or your family only seems to love you if you look a certain way. An eating disorder is usually a combination of all of those things. That's not true for disordered eating. Women, especially, are shaped through these messages to think about our bodies and food in a way that is toxic, not healthy, and just not fun.
Women always talk about it
We shouldn't all still be talking about this, especially not after the age of 25. Even 60-year old women are still talking about this. We haven't grown or learned enough and that's sad. After centuries of progress, we can do whatever we want now, yet, somehow we are standing around and talking about our workout routines, what we ate or didn't eat, and why we don't like our bodies instead of talking about our lives and our successes, or even our failures.
For centuries, women have been fighting for a voice, for rights, and for independence, but sometimes there is this undercurrent of infighting. Comparing our bodies, our workout routines, who's eating what diet. This weakens us as a group because we're not talking about the important stuff. We need to talk about supporting each other and continuing to move forward instead of stuff that is not interesting and not important in the long run.
Practicing gladness
We have a natural inclination to compare and feel envy and maybe even jealousy sometimes, but if we can practice gladness for other people, we will end up a lot happier at the end of the day. Just be glad for that person because their success or excitement for their achievement has nothing to do with you, it's just theirs. It's hard for women to practice gladness, we've learned this behavior, but we can unlearn it and we can teach the next generation to be glad for others, to stop comparing, and separate ourselves from other people.
Things to be careful of when dealing with food
We have a tendency of putting food into two categories: forbidden food and good food. When you catch yourself doing this…there's no such thing! A healthy diet comes down to three main components…balance, moderation, and variety. Is this balanced? Am I doing this in moderation? Am I eating a variety of different foods? If we can stick to those three goals then that should help us stay on track. We need to listen to our bodies instead of listening to other people talk about their bodies or an advertisement that's trying to sell us something.
Evolution of women
We've gotten away from what we as women are designed to do. Our civilization has developed way faster than our brains have. Because we started to betray our brain's basic functioning and basic needs, we get away from this. On average, women's bodies want to hold on to 17% body fat which is exactly the amount of body fat that women would need to survive without food for 9 months. Our bodies are designed to do two things: survive and reproduce. Our bodies want to hold onto this fat just in case there's a famine and we need it. Thankfully, famine isn't something that we need to worry about anymore but regardless, this is a testament to how amazing our bodies truly are.
Something we can implement with our kids right away
"The way we move our bodies is different for everybody, you know because we're not all the same in terms of being able-bodied for example, or having access to fancy exercise equipment. So, it's going to look different, and your moving body looks different than mine. And that's okay."
Exercise! Exercise is a fundamental component of keeping our bodies healthy, but the way we talk about exercise around our kids is really important. We need to focus on "am I eating to exercise or am I exercising to eat?" and you're going to want to make sure that you're modeling appropriate behavior. When talking to your kids, instead of using the word "exercise", maybe say, "Every day I need to move my body."
Useful Links:
---
Over the past week, our country has been rocked by the news of George Floyd's unnecessary death at the hands of the police. This video, coming on the heels of countless others, shows the continued injustices and challenges faced by the black community. Our children are learning and absorbing information from the world around them and as parents, we have the unique opportunity to help guide them through discussions about the hard stuff that is necessary to bring about change. At times, our parental instincts are to shelter and protect them from the world when it gets scary, but that is a privilege that unfortunately, not all families have. Black families and children have been having deep conversations about racism and inequality from early on as they have faced discrimination on a systemic level for decades. Now more than ever, it is important to have conversations about race and racism with your children, particularly in households that have not been having these discussions. So, where do we start? Here are five suggestions on how to navigate this conversation with your children:
Continue Reading
---
The worldwide pandemic itself is certainly reason enough to fire up our internal alarm bells, and certainly can and should motivate
taking reasonable actions to protect ourselves, our loved ones, neighbors, friends, and even strangers (friends we have not yet met). Continue Reading
---
Published in Indy's Child Newsletter
Okay parents, time to get serious about reinforcing our children's positive body image. Recent studies indicate that over 90% of women and girls are currently dissatisfied with their body shape and size. Forty to 60% of men and boys reported dissatisfaction as well. These studies included children as young as 5 years old! For kids, body dissatisfaction can be a predictor of low confidence, self-esteem issues, and disordered eating as they become teenagers. But parents, we are not helpless here, there are steps you can take to create and reinforce a positive body image in your child.
---
Published in Indy's Child Newsletter
Last year, the LEGO Foundation released its "Play Well Report", a survey of over 12,000 adults and children exploring the link between happiness and time spent playing together as a family. The results revealed a strong link between the number of hours a family spends playing together and an overall sense of family happiness. For children, play is essential to healthy physical and emotional development. It teaches them how to interact with others, how to think critically, and problem solve effectively. Play offers them an opportunity to establish their sense of self, expand their imaginations and foster creativity, as well as learn to cope with difficult emotions in situations they can control. For adults, play helps to relieve stress, stimulate creativity, and improve cooperation, among other things. And, for families, play fundamental for good communication skills, teaching empathy and compassion, and building trust.
---
Published in Indy's Child Newsletter
Dear Fellow Parents,
If you're anything like me, you may need a lighter perspective following the first week of our strange, new, COVID-19 reality. So, hear you go: Congratulations! I mean it. This past week was one of the most difficult, slow-moving, parenting experiences I've had so far. Don't get me wrong, I adore my children, I love spending time with them, but there is nothing like the task of facilitating e-learning with absolutely no option of escape to make you question your ability to be a quality parent. And this of course is the best-case scenario, one in which you are not personally or directly affected by the actual illness. So, here's the thing to know, you are a great parent, and now, more than ever, I want to make sure you hear me when I say, we are all doing the very best that we can right now. And, it is good enough! Enough is the important word here, enough. We do not have to be homeschooling super stars or master the art of cooking a week's worth of kid-friendly meals from whatever you currently have in your pantry – we just have to be good enough. Lower your expectations of yourself, settle into the moment, and give yourself a high-five if you can currently locate all of your children.
---
Many couples who come to see me for marital counseling say "we can't communicate", or "we argue about everything." In fact, it's not unusual for them to say both! Whether it's what to do on the weekend, who does what chores, or how one partner looks at someone of the opposite sex, conflicts seem to spring up all over the place, never resolved. While conflict is normal in marriages, it can also lead to much pain if not handled in a healthy way.
---
Do you want to participate in New Years' Eve parties and family gatherings during the holidays, but the thought of being yourself around other people stresses you out? Do you clam up or feel unsure of what to say during social situations? Do your negative thoughts about yourself and how you are perceived run wild? Or–perhaps this is a familiar scenario: you go to family gatherings and friend get-togethers, but feel as if you have to put on a false front in order to fit in. At the end of the day, you are exhausted and you don't feel any more connected to the people you just spent time with. You feel as if you are on the outside looking in. Everyone else but you seems to connect. For those of us who struggle in the social realm, the holidays have a way of highlighting this perceived deficiency. In fact, social anxiety is the highest diagnosed form of anxiety disorders, so there are probably many of us walking around feeling socially defective at this time of year.
Thankfully, the dawning of the new year can also spark hope. At this time of year, we are driven to reflect on our past and make resolutions for a better future. Perhaps you have not been as involved as you have wanted to be in your social life. Or perhaps you have not wanted to be involved socially, but something in your life seems to be amiss. If you are looking for a New Years' Resolution, here are the top 5 ways to tackle social exclusion and anxiety in 2020:
---