We are Passionate about Recovery for Eating Disorders
When Kate founded Northside Mental Health, she brought with her a wealth of knowledge, training, and experience treating eating disorders. Her passion for treating eating disorders helped her create a safe haven for eating disorder recovery and a counseling center known for providing top-notch eating recovery support.  Eating disorder counseling is not only what Northside is known for, but what makes this Indianapolis counseling center so special.
From the start, part of the vision for Northside was to create a space that truly supports clients to become their best. While addiction, substance abuse, and eating disorders are scary, we also want to honor the strength our clients have to do this work and come through the other side.
Eating Disorder Treatment and Disordered Eating Recovery
Here at our Indianapolis therapy clinic, we have many providers who specialize in eating disorders and disordered eating recovery. We offer individual and family therapy to women and men, as well as adolescents and children. Our expert therapists have the expertise to help. We have much experience in the treatment of various types of eating disorders including:
other patterns of disordered eating

A True Team Approach to Therapy for Eating Disorders
Our counselors take a team-oriented approach to eating disorder treatment to make sure you get the best possible care. Therefore, we work with other providers involved in your care. For instance, we may talk to your psychiatrist, dietician or primary care doctors in the community if needed.
We also know that when a person is dealing with an eating disorder, they are not usually suffering in isolation. For this reason, we work closely with marriage and family therapists within our clinic. That way, we are able to treat the entire family system when we can. In fact, parents and partners can meet with our founder, Kate Fisch, to learn how to best support your loved one through eating disorder treatment.
Groups, Workshops, and Events for Eating Disorder Recovery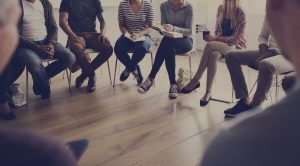 Northside offers other recovery-oriented services in addition to traditional therapy to boost support in the process of recovery.
Group therapy, dietician facilitated restaurant outings, recovery coach services, and peer-led support groups are just some of the additional services offered here. Ask your provider or check out our calendar of events to learn more and see when these other services are offered.
Ready to Begin Eating Disorder Treatment in Indianapolis?
If you are looking to establish care for yourself or a loved one at our Indianapolis treatment center, we are ready to get started. Starting eating disorder treatment can seem overwhelming. We know you have questions, so please follow these simple steps to move toward recovery:
Meet with a skilled, caring therapist.
Work toward recovery and the next chapter of your beautiful life.

Other Mental Health Services Offered at Northside
As you now know, our founder's original passion and experience is in eating disorder treatment and addiction recovery. We offer counseling for individuals and families including providing substance abuse counseling, sexual assault counseling, trauma therapy & PTSD treatment. We have EMDR specialists and professionals to assist with affair recovery. Throughout the year, we also hold workshops and groups for a number of emotional & mental health issues you may be dealing with. Please reach out and let us know how we can help support you to live your best, most fulfilled life.