Original article by Jennifer Thompson from Indy's Child: https://issuu.com/indyschild/docs/0121-ic-issuu 
Happy.  Angry.  Frustrated.  Scared.  Excited.  These are just a few of the many emotions that cab be felt in a day.  It isn't always easy to identify and articulate how we are feeling, and frustrations can build the more we feel misunderstood.  This can be ever more so for children with special needs.
The first step in knowing how to express emotions is being able to recognize the emotion as it is being feld.  So how can parents help their children to both recognize, and handle, the different emotions that come their way?
Cynthia Flores, a licensed clinical social worker with Northside Mental Health in Indianapolis, offers some excellent tips for parents who want to help their child deal with emotions in a positive and healthy manner.
Offer Choices
Or ask your child, "How can I help you?" when they are struggling.  This communicates that their feelings are valid, and you are there to support them.
Remain Calm
Even though it can be challenging, it's important to remain calm.  Remember, you are your child's emotional thermometer, and when they are running high, you cannot help them to calm down if you are running high yourself.  If necessary, both of you can take a quick timeout, or work through soe calming strategies and coping skills together ot be sure you are both in a calm place to work through difficult emotions.  Approach their big emotions with calm, work together to diffuse them, and then discuss the feelings  later on once you are both in a calm state.
Use Visuals
Children learn easier with visual charts.  These help them to identify and connect different emotions, what they look like, what they feel like, and what you can do about it.  Flores uses a lot of picture books, feeling picture games and flip charts in her practice to help children recognize, and gain insight, into different feelings and emotions.  It is an amazing medium for them to connect and identify with in a way that normalizes all feelings without judgement.
Listen Carefully
Children often struggle to express and identify their emotions with words.  Our cues are most often their behaviors, which can be deceiving.  Take the time to listen to your child, reflecting back the message that you are seeking, and/or hearing (for example:  "I hear that you are frustrated") and allow them the chance to correct you if that is not what is happening.  Allowing your child a safe space to be heard will help to encourage future communication, especially with difficult emotions.
Reflect Behaviors You See
Often, children do not have the vocabulary to share what they are feelings, so it is important to provide those opportunities for them tho connect their feelings with their actions.
Provide Emotional Guidance
Use a social thinking framework, such as The Zones of Regulation (zonesofregulation.com).
This is one of Flores's favorites.  it provides children and caregivers with a clear language and visuals to help them connect their emotions and behaviors, and also allows an easier and more positive way to communicate when they are having strong emotions.
Ask for Help
Parenting children with special needs is stressful, and it is important to know you can always seek out professional support to help you and your child navigate ways to express, communicate and manage difficult emotions together.
---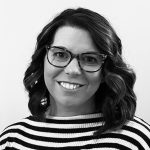 Cynthia Flores
Cynthia is a Licensed Clinical Social Worker in the state of Indiana. Cynthia obtained her undergraduate degree in Psychology at Indiana University in Bloomington, with a focus in early childhood development and relational violence. After taking a year to work with women and children in transitional housing, Cynthia went on to earn her Masters of Social Work from Indiana University in Indianapolis. Cynthia is now living in Carmel, Indiana with her husband, two children and their crazy dogs.